Name:
Tenguzaemon Naga
Nickname/ Codename:
The Shredder
Sex:
Male
Age:
Unknown
Affinity:
Super Soldier / Super Warrior
Face claim:
Shredder from the TMNT series, picture can be found in this application.
History/Description:
Tenguzaemon Naga was an old school business man from Japan. He believed in the old ways. There was no need for suits, ties and indecent formalities. He believed that the old ways, with gabs, robes and respect was everything. He was in one of the only families who belonged to a society that resembled a clan from the feudal age.
But cunning as he was he knew he couldn't go into meeting with his ceremonial garb. He donned himself as others wanted it, but by carefully picking his targets and applying 'pressure', he took power over some very rich companies. During that time, he had heard a rumor about the Genesis shot, and found it very interesting. It could remake Naga into the perfect warrior. His half-brother lived in that nation, and Naga tried to contact him.
Naga's half-brother had always hated his brother, and despised the slithering cunning of the entire clan, fleeing in disgrace to give his children a better future. In the end, Naga came to hunt him down while investigating the Genesis shot. It was Naga's half-brother's offspring that would become a powerful warrior though. It was not a warrior to recruit in the end. The man went by the name of Juggernaut and now gives lead to a bunch of rebels. He couldn't be reached by Naga, and still wanting to settle the score for his brother's disgrace, he wanted to kill him to.
While still operating mainly from a personal base, Tenguzaemon Naga, better known as the Shredder for his very brutal shredding weaponry joined the Government to confront Juggernaut and to get a grip on the entire situation. That was when things changed. Even if he was very skilled, it was Naga's dark and devious mind that changed him even more. He had taken the Genesis shot, but it only gave him minor improvements. It were cybernetic implants that enhanced his powers, and he has become a feared and vicious shadow warrior. Rebels fear him, but even his allies, the Government, do not like him. Would one Government grunt not obey his orders, he would probably die. It is for that reason that followers from Japan come in regularly to aid their master, The Shredder. All in all, Tenguzaemon is a real psychopath.
Powers/Abilities/Weapons etc:
The Shredder is a master of ninjutsu, alongside various other martial arts he learned in Japan. He is a ruthless assassin, not stopping at anything to gain what he wants. Power. The Genesis shot raised most of his attributes, making him more vicious, more cunning, sharper, stealthier, faster and stronger. This might sound dangerous, but it wasn't essential. It wasn't enough to fill his need for power, and deep inside, he still was jealous of his half-brother, who did had peace of mind. The shot made him hunger for power even more. It was Doctor Stevenson, one of the Board members' cybernetic implants that took everything Naga had and brought it to a maximum. Hewas hardly human anymore, except for his hands and face, but when he puts his helmet on, even his eyes glow red. Only when he dons his garb he looks like a normal human.
Shredder is a ruthless combatant, slashing his enemies up with his hand mounted weapon, as seen on his uniform. He had some more gadgets in his gear, like smoke pellets and grappling hooks, but they normally do not pose a threat. Normally.
Shredder hardly has any physical weaknesses. If he fights he fights well, he has great technique and is ruthless, not quitting to go after his enemy. However, he isn't truly loyal to the Government and has his own plans. The government just suits him better now. All he truly wants is to kill Juggernaut and reap more power in this nation. It might be a family thing, but even he can be blinded by his own lust for power and vengeance.
Uniform/Appearance:
Tenguzaemon in both his battle armor and his off-duty garb. He has various other business suits, but prefers not te wear them. And who, in the nation of war and strife, is going to tell him to wear one?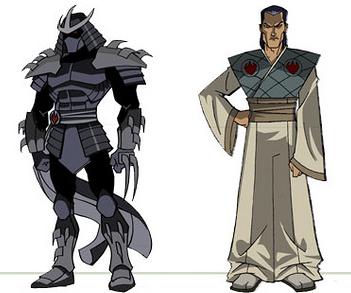 Personality: Tenguzaemon Naga, with amplified emotions through the Genesis Shot, is an influential man with high regard of the Japanese Feudal Age. He is not very talkative, unless it involves business, but deep inside of him is a great evil. He craves for power, and thinks power is the measurement to decide who should live and who should die, where he would be the perfect warrior. He is calculative, cunning and sly in what he does. He commands his followers with almost zealous beliefs and will not stop until he reaches his goal.
Codeword: EDITED BY ADMIN