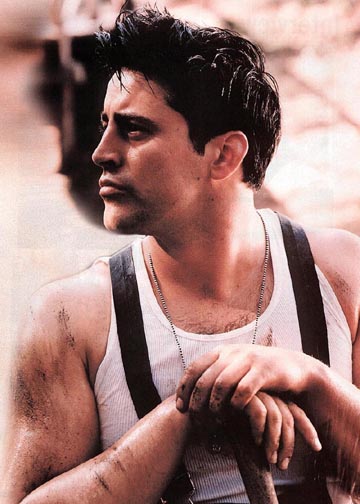 Name: Drake Valentine Marsee
Nickname / Codename: Valentine
Sex: Male
Age: 24
Affinity: Resistance Fighter
Face claim: Matt LeBlanc
Powers/Abilities/Weapons etc:


Excellent Charm

Quick-Witted

2 Beretta Px4 Storms

Terrified of Death

Weakness for Women

Heightened Eyes; Ability to See in the Dark

History/Description: Drake Valentine Marsee was born and raised in Raccoon City, California by his mother, Breanna Marsee. Drake's father ran out on his mother when he learned she was pregnant. In his earlier years as a young child, he was very attractive and his mother took advantage of that and started him in baby modeling. By the time he was 4 he was soon in several advertisements for a couple local toy companies, but his mother didn't let that get in the way of school. Education was Drake's mother's top priority, and she was going to make sure he received a good one. As soon as Drake started kindergarten and all the way up to high school he was always in school.
Drake loved school, and the older he got the more he enjoyed it and the other students. Particularly the girl students, and they took a notice in him too because he was extremely handsome. He was kissing girls in school in middle school, and by the time he was a Senior in high school he was almost expelled for getting way too friendly in a janitor's closet with a girl. Drake went through girls like girls go through clothes, and that isn't an understatement either. He was also on the school's football team and he was pretty good. He was on the varsity starting line during his Sophomore year, he placed Halfback and was damn good. Took the school to three State Championships and one two of them, though the other one wasn't a total lose. He got scouted, but turned down the offer to stay in Raccoon City and follow his career in acting and modeling.
Drake's good looks weren't the only thing that got him his acting jobs, he could act! Cry on cue, act bipolar, eat card bored, anything the directors wanted Drake did, and did it well too. He hasn't really did anything major advertisement mostly, but he does guest star occasionally in a local comedy about four guys living together in L.A. Though it is filmed right here in Raccoon City, and he only plays in about five shows a season. He mainly relies on his modeling career to pay the bills and put food on the table. This is where his good looks come in handy, he has quite an extensive resume when it comes to modeling. He has actually done a Calvin Klein modeling gig, and was a poster boy for GQ. Though occasionally he does a poster for the Raccoon City Health Department for safe sex and STDs. It isn't one of his best or proudest moments, or one of his favorite jobs. But you got to do what you got to do to get paid and get the cash.
Drake is 21 when the Gene Mass Production occured, and lucky the Gene didn't seem to have much effect on him at all. Slight nightshine occured, causing him to have the ability to see in the dark, and also giving his eyes night shine, his eyes shine in the dark when light is directly pointed into them. The Marshall put an end to his world of modeling and acting, and he soon joined the Resistance, willing to put his life on the line and risk it for the salvation of humanity. Three years later and Drake is now 24 and a member of the Resistance.
Uniform/Appearance: He usually prefers to wear tighter dress shirts or button-ups, or nice "Teeny" brand T's, such as American Eagle, Hollister, or Aeropostale. On the style of pants, you'll usually catch him in baggier jeans, mostly lighter colored jeans. And yes, you'll usually catch a sight of his boxers hanging out. Not more than boxers band will be hanging out though, he doesn't like to flash his butt to everyone. Along with his clothing, you will also see him wearing a Bullet Proof Vest (Soft, not Metal Plating, often wore by police officers.).
Personality: Drake has a very outgoing personality! He is very talkative, friendly, and always willing to lend a helping hand. He is also slightly conceided on himself though, but he doesn't in no way think he is better than anyone else because of how he looks or acts. Though when the Gene mass production occurred, Drake discovered another trait he didn't know he had. He became more cautious and learned how to be pretty good with a pistol. Drake also prefers groups to being alone, and is all for taking the Marshall down and ending this horrible war.
Codeword: EDITED BY ADMIN